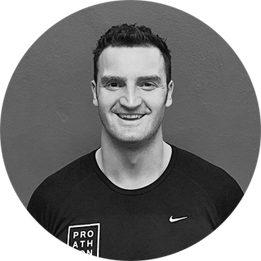 "My team and I are highly experienced trainers that know how to effectively coach busy city professionals to get fitter, leaner & stronger.
Watching our members change their bodies and improving their fitness levels is what motivates us as personal trainers, but the most rewarding part of what we do is seeing our members grow in confidence on the gym floor and hearing about how it has carried over to life outside of PROATHLON."
Co-Founder – Simon Jackson
A full wrap around service

An opportunity for us to discuss your goals, timeframes, training & injury history as well as your understanding around nutrition and your relationship with food.
We will also take you through a mobility screen which will helps us programme effectively for your level.
ACCESS

 TO THE TRAINING HUB

Our online support and education platform. In The Hub you will have access to bite sized nutrition & lifestyle education, recipes, meals plans & recipe books, stretching & mobility tutorials, home workouts and more.
BESPOKE

TRAINING PROGRAMME

A training plan built around you, your current fitness levels and your goals.
BODY-COMPOSITION & FITNESS TESTING

We regularly test your body composition using our ACCUNIQ scales and pair these results with photos to make sure that we are progressing visually.
Every quarter you will be invited to attend our test week. During this week we will put you through a series of fitness tests to measure how much you have improved over the past 12 weeks.
TAILORED

 NUTRITION COACHING
You will receive comprehensive & realistic nutrition coaching based your goals and timeframes
24/7 CONTACT

 WITH YOUR TRAINER

We offer around the clock support, so if you need help or have a question you can get in contact anytime.
"The great team at Proathlon have got me back on track. 62.1 kg this morning. I cant remember the last time i weighed that, certainly not in the last 10 years, probably longer."
"I highly recommend Proathlon, the team are professional, friendly and care about every member. Proathlon is not a traditional gym. I have been with them since the beginning. Programs are tailored to your needs, very results-focused and a very safe environment."
"What an amazing course.  I would highly recommend this course to anyone interested in losing weight, losing body fat or learning more about how the food we eat shapes our lives as well as our bodies. It is packed with the education and support needed to make a change."
"Really great gym and a very personal service. Have been havening personal training here for three years which is the best i have ever had."
"I have been so impressed with the training, nutritional knowledge/support and motivation that i have received from the Proathlon team. I was completely new to training when i started and i feel my needs have been understood, I am well informed about how to train well and safely (but hard) and i have been supported to make the progress i have over the past few months."